Analyze, prioritize and plan.
The Azure Optimization Assessment is the second step of VIAcode's 3-step process for Azure optimization.
VIAcode uses a combination of proprietary technology and experienced cloud professionals to conduct an in-depth analysis of your Azure infrastructure. The result: a prioritized list of actionable recommendations that will help you save costs, improve your security posture and implement governance.
VIAcode's 3-Step Optimization Process

Identify Potential
Identify savings, security risks and visibility gaps.
Go to Step 1
Analyze and Plan
You are here.
Implement and Maintain
Implement recommendations and industry best practices.
Go to Step 3
Ask us about Microsoft programs that fully fund the Azure Optimization Assessment
Detailed & Customized
Comprehensive data from your cloud operations is collected and analyzed by VIAcode technology. Cloud experts then review recommendations for optimization and prioritize implementation based on impact and effort across core areas: Cost, Security and Governance.
The AOA process is guaranteed to help you overcome the lack of people, time, budget, experience and tools needed to better optimize Azure. VIAcode Azure Optimization Assessments are available in a flexible and customized manner according to your needs, as follows:
On demand
Azure optimization
One-time Azure assessment to optimize cost and security, and add governance for your Azure environment.
Recurring
Optimization Assessment
Monthly or quarterly service to continuously maintain and optimize your Azure environment.
Azure Optimization
Managed Service
Fully managed Azure operations with Azure tooling and integrated, ongoing optimization.
Cost Optimization
Identify optimizations across all Azure services, IaaS, PaaS, and management infrastructure. Optimizations include pricing, tiering, orphaned resources, idle resources, usage, and more: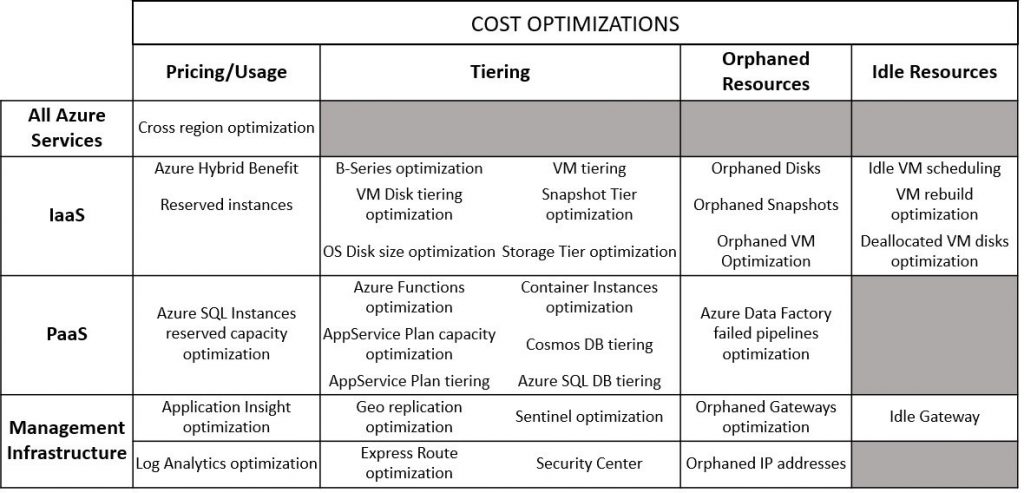 TYPICAL ANNUAL SAVINGS OF 30-40%
PRIORITIZE ACTIONS THAT REDUCE COSTS
Prioritize specific recommendations to implement based on ROI.
OVERCOME THE COMPLEXITY OF AZURE
Find ways to navigate a complex Azure pricing structure to save money.
Security Optimizations
Customized recommendations to help you target the most consequential security optimizations and improve your infrastructure's security posture. Areas of focus include:
No user impact
Potential user impact
No cost
Encryption at rest
End-point protection
Encryption in transit
Secure management port
Rights/permissioin management
Additional cost
DDoS attack protection
Audit Data Collection
Security Monitoring
Multi-factor authentification
SHINE A LIGHT ON SECURITY RISK
Comprehensive review of Security Center recommendations to identify high-impact issues.
SECURE YOUR INFRASTRUCTURE
Assess cost, effort and user impact to prioritize recommendations to implement.
Governance
Develop and implement policies for the codification of organizational standards, assess compliance at-scale, and eliminate unintended actions that increase cost and security risk, without inhibiting team production.
Common use cases for governance include:
Resource consistency
Regulatory compliance
Security
Cost management
Infrastructure management
MAINTAIN AN OPTIMIZED STATE
Ensuring appropriate and effective ongoing use of Azure resources.
HIGHLIGHT POTENTIAL RISK TO OPTIMIZATION
Provide visibility into actions that potentially threaten Azure optimization.
Learn more about the Azure Optimization Assessment and find out how you can start optimizing the cost, security and governance of your Azure environment.